Advantages of a Mobile Locksmith in Kyle
If you are locked out of your house or find yourself locked out of your car, it is best to call a mobile locksmith and not a standard locksmith. Both of them offer a similar range of services, but locksmiths who offer mobile, at your doorstep services are better equipped to handle emergencies, and can go to remote locations even in the middle of the night or whenever you need them.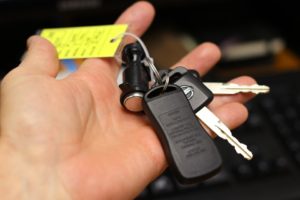 When you are stuck in a tough situation, you hope for the solution to arrive at your spot and fix the situation in a few seconds and without much fuss. That's what a mobile locksmith does when you are facing a lockout kind situation.
Let's take a look at the advantages of enlisting the help of a mobile locksmith in Kyle.
Fast Response Time
Time is money, especially when you have important meetings lined up for the day. In case of a lockout situation, you cannot afford to wait for hours to get back inside your car, or inside your home or office. Standard locksmiths usually take hours, and may take days as well, to make replacement keys, replace or repair locks, or install new locks. Mobile locksmiths, on the other hand, are known for their fast response time. Once you call them, you can trust the them to arrive at your location in Kyle very quickly. Not only that, but they are also trained to fix issues in the minimum time possible. 
Travels to Your Location
You can ask a locksmith with mobile services to come anywhere in Kyle. They will go to your house, office, or to the location where you are stranded with your car, and solve your locks and keys-related problems. For example, if you have lost your car keys and are stuck on the highway, a mobile locksmith will reach you in no time and make a replacement car key. As you do not have to tow your car to the standard locksmith or to the dealership to get the keys, you save a lot of time; moreover, it is a hassle-free experience.
Mobile Vans Equipped with Tools and Equipment
Mobile locksmiths have all the necessary, high-tech tools and equipment in their service vans, because of that, they can handle all kinds of emergencies and the needs of every customer a lot more effectively and promptly than standard locksmiths. 
Creates Replacement Keys on the Spot
These professionals eliminate the need to go to a physical store to get replacement keys. They have the tools and the skill set to create replacement keys on the spot. Moreover, they can handle all types of residential, commercial, and automotive key replacement needs.     
Comprehensive Training
Mobile locksmiths undergo comprehensive training, to gain a thorough understanding of all types of locks and their intrinsic mechanism. So, you can expect them to have the competence to fix any kind of lock.      
A Phone Call Away, 24 Hours a Day
Mobile locksmiths are available 24 hours a day. You can call them at any hour, and they will always be ready to help you. Also, they are well-known for their same-day emergency services and are trained to respond to all types of emergencies.
Call at Kyle Locksmith Co. at (512) 634-8090 for 24/7. Our professional locksmiths are there to assist you at your doorstep or whatever location you are stuck at.