Have You Installed A Digital Peephole Camera?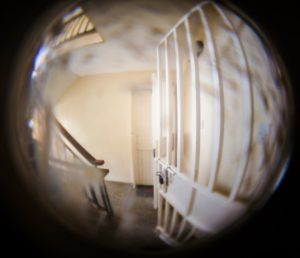 After a week of work and hectic route you finally get a weekend. You are sitting at the couch with a bowl of nachos watching your favorite Netflix series. All set and happy but suddenly someone rings the front doorbell. Real flow break, isn't it?
Somehow crawling and falling, you open the door, and it's a salesman selling a women's beauty product. Now that's a turn of events, and obviously the way no one ever likes. And how about when you hear someone pounding at the door at night? There could be times when your kids are home alone, and you don't want them to open the door for just anybody. We are living in highly uncertain times and every precaution that strengthens your home security matters.
You may have installed a high-quality deadbolt lock or a high security lock but installing a digital peephole camera will give that extra security boost and of course a peace of mind knowing that you and your family are safe. How does a digital peephole camera help?
Large View Area
The modern peephole cameras come with advance fisheye lenses of nothing less than a few millimeters. Compared to the 0.5mm peephole, these cameras cover much more areas and mostly don't leave any blind spot.
Plus, they use an LCD screen for displaying the front, so you won't have to struggle with different positions and angles to get a peek at the guest's face. On the Brightside, this LCD screen compensates for the fisheye view, and you always get a flat image of the person.
Selective Access
Admit it or not, but everyone has some guest that they don't want to answer. Obviously, your home is your comfort zone and letting in every salesperson, and annoying neighbor isn't an option.
However, to decide when to open the door, you need to have a view on the guests face. Let's for a minute consider that you do get a clear picture, but what about the shadow effect that you create while looking through the peephole. It compromises your position, which means either opening the door or an awkward moment.
Fortunately, this issue disappears with LCD viewing system of a peephole camera. Moreover, the camera mostly looks very similar to a standard peephole lens, so the person won't even realize its presence.
Night Vision
Unless you live in a neighborhood with a lot of lighting, there is no way to use the peephole during the night. Considering, the fact that most crimes and break-ins take place during the night, this blinded peephole can get you into serious trouble.
The case is completely opposite for peephole cameras. A lot of brands craft them with infrared red and additional light which makes them ideal for clear night view.
Emergency Compatible
Unlike the traditional peepholes, the peephole cameras work with electronic chipsets. Most of these chipsets are capable of storing the recorded data for future use.
These camera recordings can work as persuasive evidence for solving a crime near your place and also work as an alibi in some situations.
Conclusion
By far peepholes cameras are one of the best measures to ensure the security of your home. Literally, no one can pretend to be a delivery man if you can see a weapon in his/her hand.  Plus, you don't have to walk or hint them about your existence by peeping through the hole.  And you can adjust the view of these cameras for your height and convenience. Yet another reason to get a peephole camera.
Looking for a professional locksmith in Kyle for digital peephole camera installation? Call us at (512) 634-8090. Kyle Locksmith Co. offers high quality and affordable residential locksmith and security solutions for all your requirements. Need a new lock? Locked out of home? Need to make a new key? We can help. Call us today!!