Benefits of door closers for your office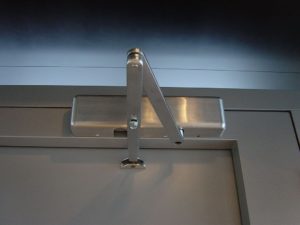 Your commercial property is bound to receive a lot of traffic with people streaming in and out constantly. For large traffic volumes, it is important that there is some control mechanism for opening and closing of the main doors. With door closers, you can achieve this.
What are door closers?
It is a device that closes a door after it has been opened and can work either manually (using physical force) or automatically (using electric energy). What are the benefits? These devices create a safer and well-managed flow of traffic. At the same time, you limit the constant wear and tear that a typical door has to go through on a daily basis.
With door closers installed, you can easily set or adjust a speed at which a door can be opened or closed. With delayed action, you can keep the it opened for much longer, allowing for large number of people to get in or out before it closes. This minimizes the closing or opening cycles for a door, thus increasing its longevity. These devices also lower repair and maintenance costs. Without these installed, it is easy to slam the door against walls, leading to damaged hinges, doors and walls.
There is another way door closers, automatic kinds in particular, help. When installed for places like hospitals, washrooms and big commercial set-ups, they eliminate the need of physical contact one has to make, resulting in fast and easy operation while also maintaining high standards of hygiene.
Different types of door closers
There are many different type of door closers you can install on your commercial doors. Deciding on what kind you should get installed depends on a variety of factors such as personal preference, building specifications, cost, mounting location (whether hidden or visible) and traffic requirements among others. In addition, it also depends a lot on the kind of door you have. For example, if you have a heavy door and the location sees tremendous amount of traffic, it would make much more sense to invest in a strong, durable device that could withstand many opening and closing cycles.
The most common types of devices include but not limited to:
Overhead: One of the most common types used in commercial buildings, this highly durable option works best for premises that experience medium- to heavy-traffic. They are visible. Top jamb, regular arm and parallel arm are a few types of devices in this category.
Concealed or frame mounted: This option works best for locations that see medium traffic flow and typically used for light-weight interior doors. These devices are hidden as they are installed into recesses in the door and frame.
Floor spring: Not visible as they are fitted in the floor. You will find this variety mostly fitted on glass storefront doors and it works best for doors with high volumes of traffic.
Always hire a professional locksmith with high-level commercial experience. Kyle locksmith Co. offers competent door closer installation services in Kyle. Whether you want these devices for main entrance, exit, interior doors, closets or fire doors, we can help you choose the right type based on your overall requirements (budget, traffic flow, aesthetics etc.) Call us at (512) 634-8090 to get a free quote over the phone. You can also explore our website to know how else we can help you maintain or upgrade the security of your commercial premises with our wide range of commercial locksmith and security solutions.