Home Improvements that are Likely to Give you ROI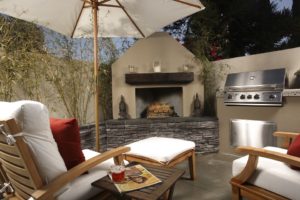 For you, your home is your identity, the place where you make memories, and it is your biggest investment. It should never appear ordinary or lose its charm. You must keep working at enhancing its appeal and giving it a fresh look if you want to bump up its value, or even if you intend to stay for as long as possible. You probably know that and are already envisioning home improvements.
You, however, are likely to be clueless about the upgrades that would make a significant difference, and make your home look like a million bucks. Let's look at some home improvement ideas that could add value to your home and give a high ROI.
Install Smart Home Technologies
Millennials are currently the largest home buying group, and they are drawn to homes that have adopted smart concepts. Smart home technologies make them feel trendy, as well as they let them save energy and provide more convenience. When remodeling your home, you must consider installing smart devices, including home security systems, smart lighting, climate control systems such as thermostats, and smart entertainment systems like voice-activated digital assistants. Not only you will love these smart amenities as a present owner, but you will also boost your house's appeal when it is time to sell it.
Remodel Kitchen
It is said that it is the kitchen that sells a house. It cannot look like a dark, messy place. You can make some cosmetic changes to breathe new life into the kitchen, and not go for a complete overhaul. Paint the walls, trim, and ceiling in appropriate colors. If you don't want to play with colors, the backsplash is perfect for the kitchen. Install custom cabinets with built-in sliding shelves, granite or quartz countertops, and go for monorail lighting and low-voltage under-cabinet lights. And, if you have the budget, add a new suite of appliances.
Upgrade Bathroom 
Bathroom upgrade, along with the kitchen, has the most impact on your house's resale value. When remodeling your bathroom, you must find a balance between style and functionality. By changing vanity, toilet, and fixtures, you can give your bathroom a new look without breaking your bank. If you want to give it a complete makeover, install general and spot lighting, a stone countertop with two sinks, custom drawer base, and wall cabinets, and change the flooring and the wall tiles.
Improve Landscaping
You cannot expect to raise your home value if its exterior looks gloomy and uninspiring. With vegetation and hardscaping, a visually appealing outdoor experience can be created. Lighting, fences, fire pits, swimming pools, and ponds also enhance the appeal. The most recent trend in landscaping is building an outdoor room or terrace extension.
Replace Garage Door
When it comes to curb appeal, your garage door plays an important role. By replacing your old garage door, you can give the front of your house a fresh, clean appearance. The replacement of the old door also results in improved insulation, which lowers your electricity bills as it is the least expensive of all home improvements that gives you good immediate returns.
If you want to sell your home significantly faster compared to others in your area, and at a good ROI, you much find out which home improvement project will increase the home value and that too in your budget.  What home improvements have you done lately?