What are Interchangeable Core or IC door locks?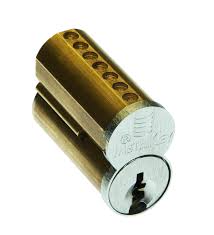 Interchangeable Core Locks or IC door locks have a removable core with its hallmark 'figure 8' that can be swapped with other cores as needed. So, if you want to rekey your lock, you can simply do it by extracting the current core and replace it with another.
The extraction of a core from one lock and then installing into another requires a special control key and but you don't need to disassemble any part of the lock to change the lock cylinder. This means you can easily and immediately rekey your locks (your locks would be as good as new) if you have fired an employee or when your keys are lost or stolen, without having to call a locksmith.
Applications and benefits of IC door locks
IC door locks work best for high security situations where you may require frequent and also immediate rekeying capability; for example, office buildings, apartments, dorms, schools, large campuses, hospitals and especially with exit hardware and all-glass doors, where extensive efforts are needed to rekey.
Fast rekeying; saves time, efforts and money in rekeying or repining locks
All you need is a single control key to pull and remove the core
No need to disassemble the lock
No need to hire a locksmith or use special tools
Readily integrates with master key systems with any type of core, standard or interchangeable
Come with restricted keyway option, thus offering amazing security (with restricted keys no one can copy your keys without your approval.)
Can be easily integrated into your current conventional cylindrical locking systems
Commonly used in master key systems
IC door locks are available as Small Format Interchangeable Core (SFIC) and Large Format Interchangeable Core (LFIC). While the face of both cores resembles figure 8, there is a difference. In SFIC, both circles (plugs) are same in size whereas in LFIC, the bottom circle is larger than the one above. Here's a quick rundown on both types.
SFIC locks are available in six and seven pin length versions and you can use the same keys for either version. Locks with small format cores offer more security as they are harder to pick and also offer more possibilities with mater keying. LFIC locks are available in six pin variety and they are also easier to take apart than SFIC locks.
IC door locks are great for commercial use. And you have to keep in mind that although IC door locks may cost you more than your traditional non-core lock systems, the investment is really worth it due to all these benefits, including security and rapid rekeying ability and convenience.
If you want to go for interchangeable core locks in your office, store or commercial building, give Kyle Locksmith Co. a call at (512) 634-8090 for a free estimate. We can also help you install a wide range of commercial grade locks to be used for light, medium or heavy-duty application. We specialize in installing IC door locks, door closers, electric strike door locks, magnetic locks, panic bars, master key systems, mortise locks and keyless access control for better security and traffic control. Give us a call to know more about our residential and commercial locksmith services in Kyle, Texas.