Why lock rekeying is important for security?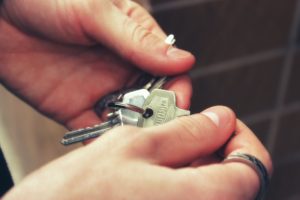 Lost your house keys? Good that you have a spare to get you back in without any fuss. But it is always better to get your locks rekeyed in a 'lost key' scenario. The odds that someone will find your keys and use them to break into and rob your house might be too slim, but why take chance.  And then there are so many other situations when you MUST consider lock rekeying:
Lost your keys
Moving to a new house
Recently loaned your keys to a third party
Fired an employee (maid, baby sitter or an office employee)
If you are a landlord and renting your property to a new renter
Your room-mate or partner moves out
There could be many more scenarios, but you get the drift. It is all too common to loan out your keys to your friends or maintenance people without giving it much thought. But how do you know a stranger doesn't have access to keys to your house? That no extra keys are floating around? It is a scary thought with a potential to give you sleepless nights. But not when you are careful about the entire thing. The idea is to get your peace of mind without spending too much on buying and installing new hardware altogether.
What is lock rekeying?
It is a fairly simple process. A locksmith would re-arrange or change the pins and springs in the cylinder of the current lock in such a way that now you would need a new key to use the lock. Even if someone has found your lost keys (small chance) or has access to duplicate keys (highly likely), they won't able to use that key anymore. New pins don't cost much and it hardly takes any time to rekey the locks. And what is very surprising that many homeowners are not even aware of this cost-effective option.
Rekey or replace? What is the confusion? Well, a lot depends on the condition of your locks. If they are too worn-out, we recommend that you get them replaced. A damaged lock is particularly vulnerable to break apart with a little or no manipulation. And if you want to install high security locks (which are harder to pick or bumped open) or digital locks (that require no keys to operate the locks), then again lock replacement is a valid option. And when you replace your locks, ask your locksmith about installing IC door locks (locks with interchangeable cores).
However, be careful of locksmiths who suggests replacing your existing locks with no rhyme or reason. If there is no particular reason like security upgrade or locks in poor condition, we say lock rekeying is the best option. It is inexpensive and less invasive than changing all your locks. Always call a licensed and insured residential locksmith. While generally all locksmiths can do it, it still requires the right tools and understanding of how different lock components work. An inexperienced locksmith may do a bad job which only results in expensive re-work you would totally want to avoid.
Lock rekeying in Kyle, Texas
You don't have to look further than Kyle Locksmith Co. for all your lock rekeying or lock replacement services. We will inspect your locks and recommend the right solutions keeping your security requirements and budget in mind. Our residential locksmith services also include installing digital peephole, security camera and master key systems. Call us at (512) 634-8090.