Need New Locks for Business?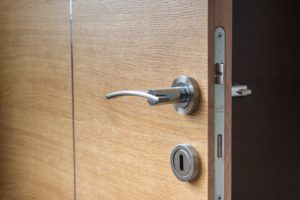 One of the top priorities when owning a physical business tends to be security. The physical building that your business operates in holds everything from legal documents to inventory and money, and should be as protected as possible. To do so, you need high-quality locks. Not only high-quality locks, but the right locks as well. When it comes to commercial buildings there's a variety of locks to choose from and it's important to make sure you choose the right lock for you. Below are 4 types of locks for business that are great for commercial/office use:
Lever Locks
Lever locks are widely used for business and commercial doors. Although these locks are not exclusive to businesses, they are almost never used in residential buildings. These types of locks cater towards high volume doorways and heavy usage. Lever locks come in a wide variety and can be thought of as an umbrella term. There are different types of lever locks, such as cylindrical lever locks as well as push button lever locks. These type of locks just refer to the locks being on a lever-type of door handle. Lever locks require keys but often are only locked at the end of the work day or night.
Exit Bars
Exit Bars, also called panic bars and crash bars, are locks that fit horizontally across a door which all the door to be opened by simply pushing up against the lock. These locks are typically seen in areas that experience a high amount of traffic or would be used in emergency situations. Rather than requiring users to turn a knob or use a key or code, these doors can simply be opened by pushing or bumping into the exit bar.
Functionally, Exit Bars are quite different from more traditional commercial locks. They do not require keys and do not require users to engage in any rotary motion. These locks are almost always found on the inside of doors, hence the name "exit bars".
Keypad locks
Keypad locks are one of the most popular locks for business and commercial properties Keypad locks have the ability to cater to a large number of employees without sacrificing security, making them common on commercial properties. These types of locks don't require keys, increasing key control while minimizing the chance for unauthorized entrance.
Since these locks do not require keys to access, they can't be picked or bypassed by any traditional methods, aside from kicking the door down. Some keypad locks rely on key cylinders as secondary options, but many newer versions incorporate biometric lock features, making them even more secure. While these locks may be more expensive in the short-term, they have their own long-term advantages. For instance, if your business were to experience a security breach, you simply have to change the code rather than making every employee a new key. Over time, keypad locks have the opportunity to pay for themselves.
Electric strike locks
Electric strike locks are often used on public access doors, and as the name would suggest, are operated by electrical mechanisms. These types of locks have become increasingly popular due to the security features they bring to the table. They can be used in conjunction with other types of locks and require specific tools, such as scan cards, to disengage from doorways. Typically these types of locks are only engaged and disengaged at the beginning and end of a day, allowing people to freely access your business. Electric strike locks can also be programmed to automatically lock after the door has closed.
For more information on locks for business or lock installation, call Kyle Locksmith Co. at (512) 634-8090. We are experts in installing all types of locks and provide you with all of your commercial security needs. Our courteous staff is always on hand to assist you.