Never Leave Your Child In a Hot Car
Did you know that each year more than 36 children die in hot cars and that the most dangerous month for this fatality is July? This is an alarming statistic about hot car deaths of children. However, what is more tragic is that each of these deaths could have been prevented. Here are some of the most important things you need to know about hot car deaths of children based on information from the National Highway Traffic Safety Administration.
Heatstroke can happen even if the outside temperature is 57 degrees.
Temperature in a car can shoot up to 20 degrees Fahrenheit in a matter of 10 minutes.
The temperature rise in a child is five times faster compared to the rise in an adult.
Death in a child can occur if the body temperature reaches 107 degrees.
Even if the temperature outside is in the 60 degrees range, the temperature inside the care can go up to 110 degrees and beyond.
10 minutes is all the time it takes for the temperature inside the car to heat up to high risk/fatality levels when the temperature outside is in the 80 degrees range.
A common misconception is that by parking in the shade and leaving a window open a car or vehicle will not get heated.
Symptoms of Over Heating in a Child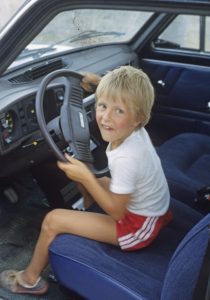 It is important to know what you are dealing with when it comes to preventing hot car deaths. As a parent it can be difference between keeping your child safe and a tragic situation.
Keep an eye out for these common symptoms of overheating in a child:
If the child is agitated.
If the child is displaying signs of disorientation.
If the child is dizzy or is nauseous or starts vomiting.
If the child starts breathing quickly or the breathing pace becomes rapid.
If the child suffers a seizure or losses consciousness.
If your child displays any one or most of these symptoms, then it could be because of overheating. Move your child out of the car immediately, and seek medical help as soon as you can.
Even if you are a Bystander, Do Something!
If you happen to come across a child alone in a hot car or vehicle, the first thing to do is to call emergency services. Dial 911 and look for ways in which you can help the child or get them out of the car. Your actions could save a life!
Make it a Habit to Check the Backseat
Often busy parents or caregivers forget that a child is in the backseat, especially if the child is asleep. They lock the door and simply go about doing their work. The only way to avoid this from happening with you and your child is to make it a habit to always look at your backseat before getting out of the car. You could also make it a habit to leave your bag or briefcase on the backseat; the idea is to leave something of importance in the backseat without which you never leave the car.
Always Lock your Car Doors
Children are playful and innocent about the dangers of a heated car or vehicle. If they find the car doors unlocked, they could get in and get locked. Which is why it is important to always keep your car doors and the trunk locked.